Meet Dr. Ummesalma Dhariwala, D.D.S.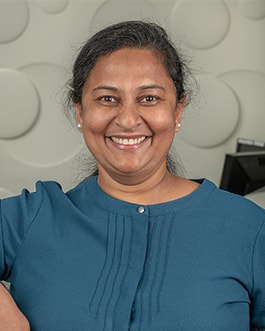 A practicing dentist since 2012, Dr. Dhariwala earned her D.D.S. from New York University's College of Dentistry. In addition, she has trained in Implantology at the Rutgers School of Dental Medicine and completed a live surgery course for implants at New Jersey's Dental Implant Learning Center.
"This practice offers the highest standards of care by constantly investing in the newest technology available," she says. "Our state-of-the-art offices ensure that our patients are treated in a comfortable setting as we work together to establish their cosmetic and overall health."
Among her many activities, Dr. Dhariwala particularly enjoys crafting crowns, fillings, and implants; smile-makeovers with veneers, and full-mouth rehabilitations, creating youthful and confident smiles.
"Dentistry can provoke anxiety," she acknowledges, "which is why I work so hard to help our patients overcome any fears they may have. Giving them a positive experience – along with seeing their genuine smiles – makes me extremely happy."
"Here," she continues, "we work with our patients to understand their vision and meet their expectations, endeavoring to create a nurturing environment that welcomes people from all corners of the world and all walks of live."
After working hours, Dr. Dhariwala enjoys spending time with her husband and daughter, traveling, cooking, and socializing with friends and family.