Meet Dr. Priyanka Patel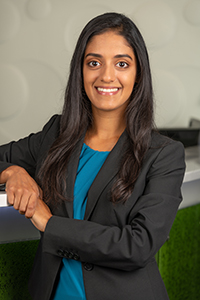 Since childhood, Dr. Priyanka Patel wanted to be a dentist. In high school, she started visiting her hometown dentists after school and on her days off. She slowly transitioned to assisting them with procedures, and in college, would work for them during school vacations, continuing to learn as much as she could before entering dental school. She has been a member of our team since 2018.
Priyanka is a Cum Laude graduate of the University of Massachusetts, Amherst, with a Bachelor of Science degree in Public Health Sciences and Biology. She earned her Doctorate in Dental Medicine at the Tufts University School of Dental Medicine. At Tufts, she was a lead clinic Teaching Assistant, mentoring upcoming students in clinical procedures.
"I am focused on preventative dentistry," she says. "Good oral hygiene can prevent many dental problems. I also focus on restoring proper function and esthetics in a patient's mouth so they can be happy with the way they look and feel about their mouths and themselves overall."
She adds: "I enjoy working with my patients to create a treatment plan that addresses their main concerns while also caring for their overall oral health. I love to see how happy and confident they feel when it is all done! I want them to be inspired to continue working towards good oral health and hygiene."
About New England Dental Group, Priyanka says: "Our group of caring professionals in varying specialties fosters excellent communication regarding treatment planning, allowing our patients to receive proper treatment all under one roof. And our technology is beyond superb."
Priyanka loves travelling to new places, where she samples local cuisine in order to recreate the dishes at home. She also enjoys listening to live music, and many outdoor activities: backpacking is a favorite.