What Is Cosmetic Dentistry?
Cosmetic dentistry treatments can improve both the appearance and the function of your teeth. Whether you are affected by chips, stains, misalignment's, or other aesthetic dental imperfections, cosmetic dentistry options can work wonders with the look of your teeth and the appearance of your smile. Here at the New England Dental Group, we offer a full range of treatments that can help you attain your goals with advanced treatments designed to correct a number of dental issues.
Porcelain Dental Veneers
Porcelain dental veneers are durable ceramic sheaths that are custom-designed to improve the appearance of chips, gaps, stains, and even teeth misalignment's. Made to match the appearance of your surrounding teeth, porcelain dental veneers can both look and feel very natural – plus, they can last for decades.
Teeth Whitening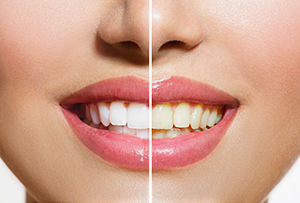 No matter how well we take care of our teeth, it's very common for stains and discoloration to develop along the surface tooth enamel. With both in-office and take-home teeth whitening treatments available at the New England Dental Group, we can help you significantly lighten the shade of your teeth for a brighter, whiter smile.
Invisalign®
Invisalign® is an innovative alternative to many traditional orthodontic methods, such as metal braces. This system of clear, removable aligners allows you to straighten your teeth in a more comfortable way. Plus, the aligners themselves are virtually invisible on the teeth – that way, others may not even realize you are undergoing treatment unless you tell them.
Tooth-Colored Fillings
With tooth-colored fillings, our dentists can treat decay and cavities with a strong composite material rather than the mercury and amalgam material of the past. These metal-free fillings look like your natural teeth, eliminating the health and environmental risks that can be posed by mercury and providing a more aesthetically pleasing filling. Tooth-colored fillings add strength to the teeth, making them more resistant to fractures. Plus, these "white" fillings make it possible to save more of the existing tooth because of the way the composite resin bonds to it. In addition to treating cavities, tooth-colored fillings can be used to replace metal fillings you may have had placed years ago.
Cosmetic Dental Bonding
Dental bonding is one of the most frequently performed – and effective – cosmetic dental treatments. Cosmetic bonding can fill in spaces between teeth, improve the appearance of small chips, and correct a number of aesthetic issues. Composed of a strong, tooth-colored resin, dental bonding material is applied to the affected teeth in a relatively non-invasive procedure that can be accomplished in just one office visit.
Inlays and Onlays
Inlays and onlays are designed to help prevent mild to moderate decay on the back teeth from becoming worse. Made of strong porcelain materials, inlays and onlays can also be used to treat mild fractures or cracks. They look like natural teeth, and are very common and effective dental treatments that can help to prevent more serious tooth damage down the road.
Frequently Asked Questions About Cosmetic Dentistry
How Much Does Cosmetic Dentistry Cost?
The cost of cosmetic dentistry will depend on the type of procedure you are receiving. Additionally, the needs of each patient, the methods used, and the materials involved will contribute to the overall costs. For example, the materials and process used for Invisalign® treatment will differ from porcelain veneers and will ultimately impact your overall cost.
How Do I Find the Best Cosmetic Dentist?
Finding the best cosmetic dentist can be as important as the procedure itself. Prospective patients should ask many questions when considering a cosmetic dentist. When choosing a professional there are several factors to remember: confirm their credentials, ask for referrals or talk to friends or family who have used the cosmetic dentist, ask for examples of their work pertaining to the specific procedure you are pursuing, and ensure you have communicated your needs accurately and the cosmetic dentist has effectively listened.
Will My Cosmetic Dentistry Results Look Natural?
Cosmetic dentistry procedures are designed to look as natural as possible and be indistinguishable from any surrounding teeth. The entire basis for cosmetic dentistry is to improve the overall appearance of your smile with seamless results. Our team has a proven track record of providing excellent and natural-looking results through our various cosmetic dental procedures.
What Can I Expect in My Cosmetic Dentistry Consultation?
At your initial consultation, you will discuss with our team your goals and needs. Based on your input and oral needs, our team will develop a comprehensive dental plan to help you achieve your aesthetic goals. During this first appointment, you will be given a detailed breakdown of the costs, risks, benefits, and a more accurate timeline of your procedure. The first consultation provides a great opportunity for you to ask as many questions as possible.
How Long Does Cosmetic Dentistry Take?
How long a particular cosmetic dentistry procedure can take depends on the actual procedure (or combination of procedures) and the individual patient's needs. The entire process begins with an initial consultation and may involve multiple follow-up appointments. The process will likely not last longer than a few appointments but, in some cases, may last several months, such as with Invisalign®.
Contact the New England Dental Group
For more information on the many cosmetic dentistry procedures we offer, or to schedule an appointment with the New England Dental Group, please contact us today.