Meet Dr. Richard Calvin, D.D.S.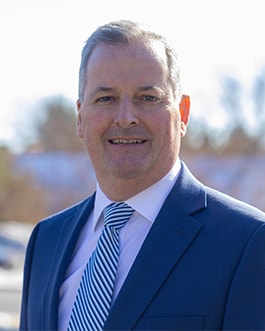 A lifelong resident of New Hampshire, Dr. Richard Calvin received his Bachelor of Science degree in Biochemistry from the University of New Hampshire in 1983 and his DDS from the New York University College of Dentistry in 1987. In 1988, he completed an intense general practice residency at NYU. During his 35 years in practice, Dr. Calvin has been an active member of the New Hampshire Dental Society, the American Dental Association (ADA), the Academy of General Dentistry (AGD), the World Congress on Minimally Invasive Dentistry, the World Clinical Laser Institute (WCLI), and the International Dental Implant Association (IDIA). He has held many executive positions within his component dental society, including the role of Trustee in the New Hampshire Dental Society for six years and the Chairman of the Peer Review Committee for the Greater Salem Dental Society for 13 years. Dr. Calvin has been voted as one of "The Best Dentists in NH" for the past 20 years and he is not stopping there!
Dr. Calvin is one of the few dentists in the area who is proficient in three of the most up-to-date treatment modalities available in dentistry: the Biolase® Waterlase MD Dental Laser, CEREC® CAD/CAM Restoration Technology, and the placement of digitally-guided dental implants. Dental lasers and CAD/CAM technology are the "cutting edge" tools for gum treatments, painless dental surgeries, extractions, and aesthetic one-visit dental restorations, including crowns, veneers, and bridges. Digitally-guided dental implants are virtually painless and usually completed in only one visit. Implants are used for replacing missing teeth so that dentures and bridges may not be needed. For the past 16 years, Dr. Calvin has used these extraordinary technologies with astounding results. His patients love the benefits of his avant-garde, minimally invasive dentistry techniques. Dr. Calvin continues to spend over 70 hours per year in continuing education to learn new advanced techniques that are continually being developed for these dental technologies. He has dedicated his career to delivering extraordinary patient-focused dental care in a relaxed, caring environment, and will always strive to uphold this goal.
When Dr. Calvin is not treating patients, he leads a very active family life with his wife Danielle and two stepchildren, Morgan and Adam. Dr. Calvin also enjoys golf, skiing, biking, scuba diving, boating, and traveling.