How Do CEREC Crowns and Lab-Made Crowns Differ?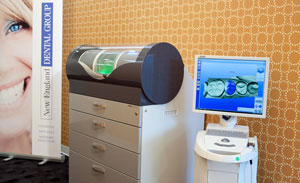 When dental damage or decay requires a more significant restoration than deep cleaning or a filling can provide, a crown may be utilized to protect the beauty and function of your smile. At New England Dental Group, our experienced dentists are trained in the most advanced dental technology and techniques available, which includes the CEREC® One-Visit Crowns. There are a few differences between the CEREC® crowns and traditional lab-made dental crowns that you should be aware of, and the right method for your needs will depend on several factors that our dentists will discuss with you during your appointment.
CEREC® One-Visit Crowns, just like lab-made crowns, will be customized to suit your bite alignment and smile. CEREC® crowns, however, typically can be created with enhanced precision for the best fit possible, which requires less tooth preparation (so more of your natural tooth remains) and can help to minimize sensitivity. Furthermore, CEREC® crowns offer exceptional convenience, as the restorations can be fabricated in-house while you wait, eliminating the need for you to wear a temporary crown and return at a later date to be fitted with the permanent model, as is the case with lab-made crowns.
There are some additional considerations when choosing between crown types. In some cases, the lab-made crowns may offer improved aesthetics over the CEREC® crowns, though both styles offer natural-looking results. We can help you determine which option is best for your needs during your visit.
If you have additional questions about what makes CEREC® One-Visit Crowns unique, or if you would like to schedule an appointment with one of our experienced dentists, please contact us today.