Dr. Panajoti Volunteers on Service Trip in Haiti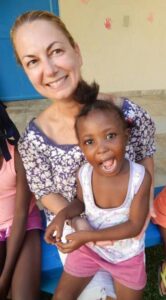 As part of New England Dental Group's mission to give back, Dr. Margarita Panajoti and hygienist Justine Abell recently had the opportunity to travel to Haiti, volunteering their efforts in the town of Grand Goâve. The dental duo worked closely with the nonprofit organization "Be Like Brit", which is an orphanage built in honor of Britney Gengel, who was on a college service trip to the area when she perished in the 2010 earthquake. In addition to their work helping the children at Be Like Brit, Dr. Panajoti also performed dental care for residents of the town, as a basic dental facility is not available to them.
"We cannot imagine our world without basic dental care, but it does exist in the other parts of the world," says Dr. Panajoti. She and Justine were honored to make such a positive impact in many of the Grand Goâve residents' lives by helping them improve their oral health. The two team members describe their trip as one of the most rewarding service experiences in which they have participated, and they look forward to doing more volunteer work in the future.
You can visit our Facebook page to view pictures from the volunteer trip, and if you would like to schedule an appointment at our practice, please contact us today!