Boston Cosmetic Dentist Repairs Smile Imperfections With Porcelain Veneers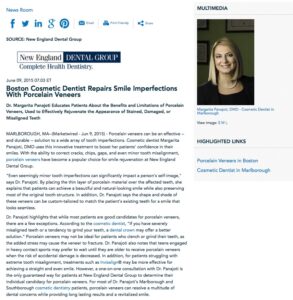 Dr. Margarita Panajoti educates patients about the benefits and limitations of porcelain veneers, used to effectively rejuvenate the appearance of stained, damaged, or misaligned teeth.
Marlborough, MA – Porcelain veneers can be an effective – and durable – solution to a wide array of tooth imperfections. Cosmetic dentist Margarita Panajoti, DMD uses this innovative treatment to boost her patients' confidence in their smiles. With the ability to correct cracks, chips, gaps, and even minor tooth misalignment, porcelain veneers have become a popular choice for smile rejuvenation at New England Dental Group.
"Even seemingly minor tooth imperfections can significantly impact a person's self-image," says Dr. Panajoti. By placing the thin layer of porcelain material over the affected teeth, she explains that patients can achieve a beautiful and natural-looking smile while also preserving most of the original tooth structure. In addition, Dr. Panajoti says the shape and shade of these veneers can be custom-tailored to match the patient's existing teeth for a smile that looks seamless.
Dr. Panajoti highlights that while most patients are good candidates for porcelain veneers, there are a few exceptions. According to the cosmetic dentist, "If you have severely misaligned teeth or a tendency to grind your teeth, a dental crown may offer a better solution." Porcelain veneers may not be ideal for patients who clench or grind their teeth, as the added stress may cause the veneer to fracture. Dr. Panajoti also notes that teens engaged in heavy contact sports may prefer to wait until they are older to receive porcelain veneers when the risk of accidental damage is decreased. In addition, for patients struggling with extreme tooth misalignment, treatments such as Invisalign® may be more effective for achieving a straight and even smile. However, a one-on-one consultation with Dr. Panajoti is the only guaranteed way for patients at New England Dental Group to determine their individual candidacy for porcelain veneers. For most of Dr. Panajoti's Marlborough and Southborough cosmetic dentistry patients, porcelain veneers can resolve a multitude of dental concerns while providing long lasting results and a revitalized smile.
About Margarita Panajoti, DMD
Dr. Margarita Panajoti has been a member of New England Dental Group for over sixteen years. She earned her Doctorate of Dental Medicine from Tufts University School of Dental Medicine and has completed additional specialized training in Invisalign® clear teeth aligner treatment and teeth whitening procedures. Dr. Panajoti is also a certified Specialist in CEREC® and has been awarded Mercer/ExperDent's Certification for Leadership in Dentistry. She is an active member of the American Dental Association, the Academy of Cosmetic Dentistry, and the CEREC® Study Club. Dr. Panajotiis available for interview upon request.
For more information about Dr. Panajoti and the New England Dental Group, visit newenglanddentalgroup.com and facebook.com/NewEnglandDentalGroup.
Contact:
New England Dental Group
Marlborough Office:
661C Boston Post Road East
Marlborough, MA 01752
(508) 485-1114
(888) 495-7733
Southborough Office:
257 Turnpike Road
Suite 330
Southborough, MA 01772
(508) 281-6464
(877) 779-4242
Rosemont Media
(858) 200-0044
www.rosemontmedia.com