Marlborough Dentist Volunteers at Orphanage on Service Trip to Haiti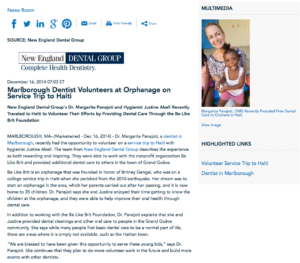 New England Dental Group's Dr. Margarita Panajoti and hygienist Justine Abell recently traveled to Haiti to volunteer their efforts by providing dental care through the Be Like Brit Foundation.
Marlborough, MA – Dr. Margarita Panajoti, a dentist in Marlborough, recently had the opportunity to volunteer on a service trip to Haiti with hygienist Justine Abell. The team from New England Dental Group describes the experience as both rewarding and inspiring. They were able to work with the nonprofit organization Be Like Brit and provided additional dental care to others in the town of Grand Goâve.
Be Like Brit is an orphanage that was founded in honor of Britney Gengel, who was on a college service trip in Haiti when she perished from the 2010 earthquake. Her dream was to start an orphanage in the area, which her parents carried out after her passing, and it is now home to 35 children. Dr. Panajoti says she and Justine enjoyed their time getting to know the children at the orphanage, and they were able to help improve their oral health through dental care.
In addition to working with the Be Like Brit Foundation, Dr. Panajoti explains that she and Justine provided dental cleanings and other oral care to people in the Grand Goâve community. She says while many people find basic dental care to be a normal part of life, there are areas where it is simply not available, such as the Haitian town.
"We are blessed to have been given this opportunity to serve these young kids," says Dr. Panajoti. She continues that they plan to do more volunteer work in the future and build more events with other dentists.
About Margarita Panajoti, DMD
After completing a Bachelor of Science degree from the University of Albania, Dr. Panajoti attended Tufts University School of Dental Medicine, where she earned her Doctorate of Dental Medicine. She is a certified specialist in teeth whitening, CEREC®, and Invisalign® and is a member of several professional organizations including the American Dental Association and the American Academy of Cosmetic Dentistry. Dr. Panajoti is available for interview upon request.
For more information about New England Dental Group, please visit newenglanddentalgroup.com and facebook.com/NewEnglandDentalGroup.
Contact:
New England Dental Group
Marlborough Office:
661C Boston Post Road East
Marlborough, MA 01752
(508) 485-1114
(888) 495-7733
Southborough Office:
257 Turnpike Road
Suite 330
Southborough, MA 01772
(508) 281-6464
(877) 779-4242
Rosemont Media
(858) 200-0044
www.rosemontmedia.com