Marlborough Dentists Add New 3D Imaging System for Precise Diagnosis & Treatment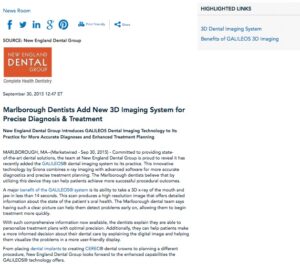 New England Dental Group introduces GALILEOS dental imaging technology to its practice for more accurate diagnoses and enhanced treatment planning.
Marlborough, MA—Committed to providing state-of-the-art dental solutions, the team at New England Dental Group is proud to reveal it has recently added the GALILEOS® dental imaging system to its practice. This innovative technology by Sirona combines x-ray imaging with advanced software for more accurate diagnostics and precise treatment planning. The Marlborough dentists believe that by utilizing this device they can help patients achieve more successful procedural outcomes.
A major benefit of the GALILEOS® system is its ability to take a 3D x-ray of the mouth and jaw in less than 14 seconds. This scan produces a high resolution image that offers detailed information about the state of the patient's oral health. The Marlborough dental team says having such a clear picture can help them detect problems early on, allowing them to begin treatment more quickly.
With such comprehensive information now available, the dentists explain they are able to personalize treatment plans with optimal precision. Additionally, they can help patients make a more informed decision about their dental care by explaining the digital image and helping them visualize the problems in a more user-friendly display.
From placing dental implants to creating CEREC® dental crowns to planning a different procedure, New England Dental Group looks forward to the enhanced capabilities the GALILEOS® technology offers.
About New England Dental Group
New England Dental Group provides a comprehensive array of dental solutions at its office locations in Marlborough and Southborough. The dental practice is composed of Dr. Margarita Panajoti, Dr. Ghazwan Ghazi, Dr. Minna Kim, Dr. Elina Fooks, and several skilled support staff members. Together, the multi-specialty team offers a variety of general, cosmetic, and restorative care options to help patients achieve beautiful, healthy teeth. The dentists are available for interview upon request.
For more information about New England Dental Group, please visit newenglanddentalgroup.com and facebook.com/NewEnglandDentalGroup.
Contact:
New England Dental Group
Marlborough Office:
661C Boston Post Road East
Marlborough, MA 01752
(508) 485-1114
(888) 495-7733
Southborough Office:
257 Turnpike Road
Suite 330
Southborough, MA 01772
(508) 281-6464
(877) 779-4242
Rosemont Media
(858) 200-0044
www.rosemontmedia.com