New England Dental Group to Open New Office in Downtown Boston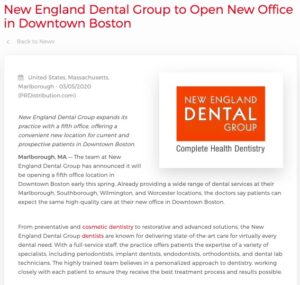 New England Dental Group expands its practice with a fifth office, offering a convenient new location for current and prospective patients in Downtown Boston.
Marlborough, MA — The team at New England Dental Group has announced it will be opening a fifth office location in Downtown Boston early this spring. Already providing a wide range of dental services at their Marlborough, Southborough, Wilmington, and Worcester locations, the doctors say patients can expect the same high-quality care at their new office in Downtown Boston.
From preventative and cosmetic dentistry to restorative and advanced solutions, the New England Dental Group dentists are known for delivering state-of-the-art care for virtually every dental need. With a full-service staff, the practice offers patients the expertise of a variety of specialists, including periodontists, implant dentists, endodontists, orthodontists, and dental lab technicians. The highly trained team believes in a personalized approach to dentistry, working closely with each patient to ensure they receive the best treatment process and results possible.
Continuing their commitment to safe and effective care, the dentists will employ the same sophisticated technology available at their other office locations. This includes advanced systems for laser treatments, 3D printing of dentures, X-Guide navigation for dental implant surgery, CEREC® one-visit crowns, and more.
At New England Dental Group, the dentists and staff are dedicated to helping patients achieve optimal oral health and beautiful smiles. With the opening of their new office in Downtown Boston, the team looks forward to extending comprehensive dental care to a wider number of patients.
About New England Dental Group
New England Dental Group is composed of a large team of extensively trained specialists, led by cosmetic dentist Dr. Margarita Panajoti. The practice has been serving patients in the area for over 20 years, with treatments ranging from routine care to more advanced oral procedures. The experienced team is committed to dental excellence as they educate patients about their oral health and deliver the best dental care possible. The dentists are available for interview upon request.
For more information about New England Dental Group, please visit newenglanddentalgroup.com and facebook.com/NewEnglandDentalGroup.
Contact:
New England Dental Group
Marlborough Office:
661C Boston Post Road East
Marlborough, MA 01752
(508) 485-1114
Southborough Office:
257 Turnpike Road
Suite 330
Southborough, MA 01772
(508) 281-6464
Wilmington Office:
206 Ballardvale Street
Wilmington, MA 01887
(978) 752-2320
Worcester Office:
456 Park Avenue
Worcester, MA 01610
(508) 755-1444
Rosemont Media
(858) 200-0044
www.rosemontmedia.com