Marlborough, Massachusetts Dentist Outlines The Advantages Of Dental Implants Vs. Bridges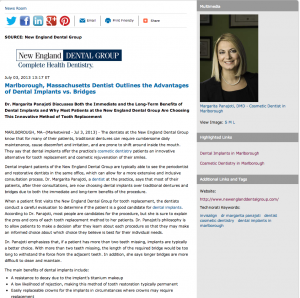 Dr. Margarita Panajoti discusses both the immediate and the long-term benefits of dental implants and why most patients at the New England Dental Group are choosing this innovative method of tooth replacement.
Marlborough, MA – The dentists at the New England Dental Group know that for many of their patients, traditional dentures can require cumbersome daily maintenance, cause discomfort and irritation, and are prone to shift around inside the mouth. They say that dental implants offer the practice's cosmetic dentistry patients an innovative alternative for tooth replacement and cosmetic rejuvenation of their smiles.
Dental implant patients of the New England Dental Group are typically able to see the periodontist and restorative dentists in the same office, which can allow for a more extensive and inclusive consultation process. Dr. Margarita Panajoti, a dentist at the practice, says that most of their patients, after their consultations, are now choosing dental implants over traditional dentures and bridges due to both the immediate and long-term benefits of the procedure.
When a patient first visits the New England Dental Group for tooth replacement, the dentists conduct a careful evaluation to determine if the patient is a good candidate for dental implants. According to Dr. Panajoti, most people are candidates for the procedure, but she is sure to explain the pros and cons of each tooth replacement method to her patients. Dr. Panajoti's philosophy is to allow patients to make a decision after they learn about each procedure so that they may make an informed choice about which choice they believe is best for their individual needs.
Dr. Panajoti emphasizes that, if a patient has more than two teeth missing, implants are typically a better choice. With more than two teeth missing, the length of the required bridge would be too long to withstand the force from the adjacent teeth. In addition, she says longer bridges are more difficult to clean and maintain.
The main benefits of dental implants include:
A resistance to decay due to the implant's titanium makeup
A low likelihood of rejection, making this method of tooth restoration typically permanent
Easily replaceable crowns for the implants in circumstances where crowns may require replacement
In addition, every time a dentist works on a bridge, Dr. Panajoti says more wear is caused to the adjacent teeth. In cases where the adjacent teeth require no restoration, she says a bridge still necessitates filing the adjacent teeth down in order to replace the missing teeth. Dr. Panajoti also notes that dental implants are easier to clean because they function as individual, single teeth. She says they are more hygienic and keep the patient's gum tissue healthier than a bridge.
Dr. Panajoti says that, though dental implants require a larger initial investment, they are more economical in the long run. Once the implants are in the mouth for a year, she says the likelihood of a rejection of the implant decreases dramatically and the implants are then considered permanent. While bridges can decay and usually require replacement every 10-15 years, Dr. Panajoti says a successful dental implant never needs to be replaced.
About Margarita Panajoti, DMD
Dr. Margarita Panajoti earned her Doctorate of Dental Medicine from Tufts University School of Dental Medicine. A certified specialist in Invisalign® and CEREC (a technology that allows patients to receive customized dental crowns and other restorations in a single office visit), Dr. Panajoti has also earned Mercer/ExperDent's Certification for Leadership in Dentistry. She is also a member of several major dental organizations, including the Academy of Cosmetic Dentistry. Dr. Panajoti is available for interview upon request.