Massachusetts Dentist 'Gives Back' Through Various Volunteer Efforts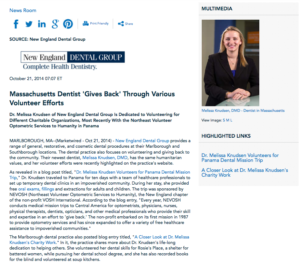 Dr. Melissa Knudsen of New England Dental Group is dedicated to volunteering for different charitable organizations, most recently with the Northeast Volunteer Optometric Services to Humanity in Panama.
Marlborough, MA – New England Dental Group provides a range of general, restorative, and cosmetic dental procedures at their Marlborough and Southborough locations. The dental practice also focuses on volunteering and giving back to the community. Their newest dentist, Melissa Knudsen, DMD, has the same humanitarian values, and her volunteer efforts were recently highlighted on the practice's website.
As revealed in a blog post titled, "Dr. Melissa Knudsen Volunteers for Panama Dental Mission Trip," Dr. Knudsen traveled to Panama for ten days with a team of healthcare professionals to set up temporary dental clinics in an impoverished community. During her stay, she provided free oral exams, fillings and extractions for adults and children. The trip was sponsored by NEVOSH (Northeast Volunteer Optometric Services to Humanity), the New England chapter of the non-profit VOSH International. According to the blog entry, "Every year, NEVOSH conducts medical mission trips to Central America for optometrists, physicians, nurses, physical therapists, dentists, opticians, and other medical professionals who provide their skill and expertise in an effort to 'give back.' The non-profit embarked on its first mission in 1987 to provide optometry services and has since expanded to offer a variety of free healthcare assistance to impoverished communities."
The Marlborough dental practice also posted blog entry titled, "A Closer Look at Dr. Melissa Knudsen's Charity Work." In it, the practice shares more about Dr. Knudsen's life-long dedication to helping others. She volunteered her dental skills for Rosie's Place, a shelter for battered women, while pursuing her dental school degree, and she has also recorded books for the blind and volunteered at soup kitchens.
Ultimately, Dr. Knudsen says she is looking forward to going on more dental mission trips in the future. She shares, "I've always really liked volunteering, but now that I'm able to provide great dental services, it is the main focus of my volunteer work. I think it's important, especially if you work in a private practice setting, to take time away and give back to people who may not be able to afford to come into a beautiful, technologically advanced practice."
About Melissa Knudsen, DMD
Dr. Knudsen earned her dental degree from Boston University's Henry M. Goldman School of Dental Medicine. She is certified to provide Invisalign® clear teeth aligners and has experience with an expansive variety of general and cosmetic dental procedures. Dr. Knudsen is an active member of the American Dental Association, the Massachusetts Dental Society, and the Metropolitan Districts Dental Society. She is available for interview upon request.
For more information about Dr. Knudsen and New England Dental Group, visit newenglanddentalgroup.com and facebook.com/NewEnglandDentalGroup.
Contact:
New England Dental Group
Marlborough Office:
661C Boston Post Road East
Marlborough, MA 01752
(508) 485-1114
Southborough Office:
257 Turnpike Road
Suite 330
Southborough, MA 01772
(508) 281-6464
Rosemont Media
(858) 200-0044
www.rosemontmedia.com