Woman-Owned Dental Practice Opening in Downtown Boston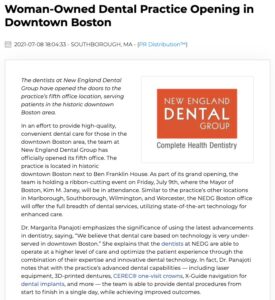 The dentists at New England Dental Group have opened the doors to the practice's fifth office location, serving patients in the historic downtown Boston area.
Southborough, MA — In an effort to provide high-quality, convenient dental care for those in the downtown Boston area, the team at New England Dental Group has officially opened its fifth office. The practice is located in historic downtown Boston next to Ben Franklin House. As part of its grand opening, the team is holding a ribbon-cutting event on Friday, July 9th, where the Mayor of Boston, Kim M. Janey, will be in attendance. Similar to the practice's other locations in Marlborough, Southborough, Wilmington, and Worcester, the NEDG Boston office will offer the full breadth of dental services, utilizing state-of-the-art technology for enhanced care.
Dr. Margarita Panajoti emphasizes the significance of using the latest advancements in dentistry, saying, "We believe that dental care based on technology is very under-served in downtown Boston." She explains that the dentists at NEDG are able to operate at a higher level of care and optimize the patient experience through the combination of their expertise and innovative dental technology. In fact, Dr. Panajoti notes that with the practice's advanced dental capabilities — including laser equipment, 3D-printed dentures, CEREC® one-visit crowns, X-Guide navigation for dental implants, and more — the team is able to provide dental procedures from start to finish in a single day, while achieving improved outcomes.
In addition to utilizing cutting edge dental technologies, NEDG offers patients the charm of its new historic property, with the comfort of a customized dental experience. This includes precisely tailored treatment plans based on each patient's unique needs, as well as personally curated entertainment. The team says patients are supplied with noise-cancelling headphones and given the option to watch a wide range of TV shows and movies, which can be selected prior to their visit.
The NEDG team is thrilled to open the doors to its new office location and believes current and prospective patients in downtown Boston can greatly benefit from the elevated level of care the practice strives to offer.
About New England Dental Group
New England Dental Group is an all-inclusive dental practice with five offices throughout Massachusetts. The expansive team — led by cosmetic dentist Dr. Margarita Panajoti — includes a variety of specialists such as implant dentists, periodontists, orthodontists, and lab technicians. They have been providing exceptional dental care for more than 20 years, and are committed to staying at the forefront of the latest advancements in dentistry. The team is available for interview upon request.
For more information about New England Dental Group, please visit newenglanddentalgroup.com and facebook.com/NewEnglandDentalGroup.
###
New England Dental Group
Marlborough Office:
661C Boston Post Road East
Marlborough, MA 01752
(508) 485-1114
Southborough Office:
257 Turnpike Road
Suite 330
Southborough, MA 01772
(508) 281-6464
Wilmington Office:
206 Ballardvale Street
Wilmington, MA 01887
(978) 752-2320
Worcester Office:
456 Park Avenue
Worcester, MA 01610
(508) 755-1444
Downtown Boston:
One Milk Street
Boston, MA 02109
(617) 892-4411
Rosemont Media
(800) 491-8623
www.rosemontmedia.com